This article contains content from Wikipedia. Current versions of the GNU FDL article
Baja jacket
on WP may contain information useful to the improvement of this article
W
P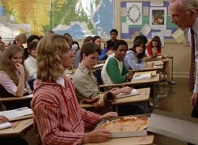 A Baja jacket (also known as a Baja hoodie, Baja surf hoodie, Baja sweatshirt, or Drug rug) is a type of jacket with a single large pocket on the front, often associated with the cannabis and surf cultures.
They are very popular in the Hippie subculture [1] and among fans of post-hair metal, and now Millenials who see it as a Retro Style statement. [2]
They are known primarily as a "baja hoodie" or "drug rug" because of the genre in which they are popular.[3][4]
In the 1970s, California surfers brought these hooded shirts back from surf trips to Baja California, Mexico. They became associated with surfers and surfing in mexican coastal towns, and worn as beachwear in cool weather.[5][6] The shirts, called "sudadera de jerga" in Mexico, are also traditionally worn by Mexican-American and Mexican youth, especially young men, and can be considered a part of cholo style.[7][8][9][10]
Baja Jackets are made with a variety of different materials: often cotton, acrylic, and polyester. The fabric can be made from recycled fibers, such as recycled T-shirts.[11][12]
References
Edit
Availability
Edit
Incomplete. Feel free to add
Ad blocker interference detected!
Wikia is a free-to-use site that makes money from advertising. We have a modified experience for viewers using ad blockers

Wikia is not accessible if you've made further modifications. Remove the custom ad blocker rule(s) and the page will load as expected.