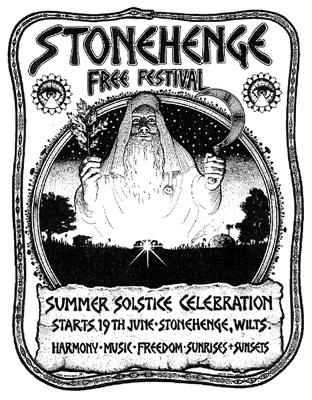 No higher resolution available.
Flyer / poster for the 1975 Stonehenge Free Festival
This is an illustration of Ginny Good, a subject of public interest.
This image may be obtained from http://www.lugodoc.demon.co.uk/Druids/DRUIDS.htm; the copyright for it is most likely owned by either the publisher of the work, the artist(s) who produced the artwork in question, or the person who made the transparency version.
The entire image is used, of a size and resolution sufficient to maintain quality but not so large as to impinge on the capacity of the original image to be used for commercial purposes, is used to convey the meaning intended and avoid tarnishing or misrepresenting the intended image.
The image helps the reader identify the subject, assures the readers that they have reached the right article containing critical commentary about the subject, and illustrates the subject in a way that words alone could not convey.
The use of images on a wiki educates and informs viewers about a subject of public interest with images that words cannot replace and that have no free equivalent. This and other functions of a wiki noted above are facilitated by navigation between subjects that are connected, and images may also serve the unique ability of wiki articles to allow navigation between these subjects.
Any free substitute would fail one or more of the purposes above. These uses are believed to qualify as fair use under copyright law.
Appears on these pages

of
New Age Travellers are groups of people who often espouse New Age (WP) or hippie (WP) beliefs...
File history
Click on a date/time to view the file as it appeared at that time.