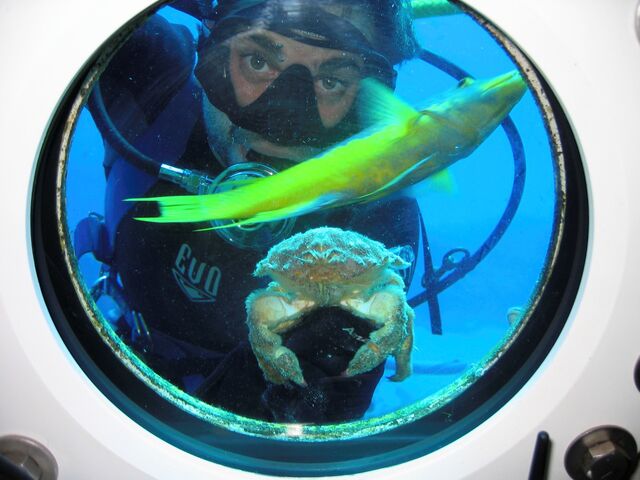 Description English: Aquarius underwater habitat technician Dewey Smith and two sea creatures seen from inside the habitat through a viewport during the NASA-NOAA NEEMO 13 mission in August 2007. Smith subsequently died during a dive from Aquarius in May 2009. From http://spaceflight.nasa.gov/gallery/images/behindthescenes/training/html/jsc2007e042267.html. NASA image JSC2007-E-42267 (11 August 2007) in public domain. Date 5 February 2012 (original upload date) Source Transferred from en.wikipedia; transferred to Commons by User:Gildir using CommonsHelper. Author Original uploader was Gildir at en.wikipedia Permission (Reusing this file)
PD-USGOV-NASA. Licensing Public domain This file is in the public domain because it was created by NASA. NASA copyright policy states that "NASA material is not protected by copyright unless noted". (See Template:PD-USGov, NASA copyright policy page or JPL Image Use Policy.)
Boarisch | ‪беларуская (тарашкевіца)‬ | català | Deutsch | Ελληνικά | English | Esperanto | español | eesti | فارسی | suomi | français | Gaeilge | galego | עברית | Հայերեն | italiano | 日本語 | 한국어 | lietuvių | македонски | മലയാളം | Plattdüütsch | Nederlands | polski | português | română | русский | svenska | ไทย | Türkçe | vèneto | 中文 | ‪中文(简体)‬ | ‪中文(繁體)‬ | +/−
Shuttle.svg Dialog-warning.svg Warnings:
   Use of NASA logos, insignia and emblems are restricted per US law 14 CFR 1221.
   The NASA website hosts a large number of images from the Soviet/Russian space agency, and other non-American space agencies. These are not necessarily in the public domain.
   Materials based on Hubble Space Telescope data may be copyrighted if they are not explicitly produced by the STScI.[1] See also Template:PD-Hubble and Template:Cc-Hubble or Template:Spacetelescope.org.
   The SOHO (ESA & NASA) joint project implies that all materials created by its probe are copyrighted and require permission for commercial non-educational use. [2]
   Images featured on the Astronomy Picture of the Day (APOD) web site may be copyrighted. [3]

Shuttle.svg This image or video was catalogued by Johnson Space Center of the United States National Aeronautics and Space Administration (NASA) under Photo ID: JSC2007-E-42267. This tag does not indicate the copyright status or the source of the attached work. A normal copyright tag and a source are still required. See Commons:Licensing for more information.
Licensing
Edit
This file is in the public domain
Appears on these pages

of
Dewey Dewayne Smith (July 24, 1972 - May 5, 2009) was an underwater diver, former...
File history
Click on a date/time to view the file as it appeared at that time.
Date/Time
Thumbnail
Dimensions
User
Comment
current
21:10, July 25, 2012
1,600 × 1,200

(379 KB)

VvAnarchangelvV (Talk | contribs)
Description English: Aquarius underwater habitat technician Dewey Smith and two sea creatures seen from inside the habitat through a viewport during the NASA-NOAA NEEMO 13 mission in August 2007. Smith subsequently died during a dive from Aquarius in Ma
Ad blocker interference detected!
Wikia is a free-to-use site that makes money from advertising. We have a modified experience for viewers using ad blockers

Wikia is not accessible if you've made further modifications. Remove the custom ad blocker rule(s) and the page will load as expected.