The Floating wave power plant (FWP) is one of the most efficient ocean wave energy converters.[1] FWP converts ocean wave energy into electricity. Unlike all other existing ocean wave energy converters FWP creates constant unidirectional air flow through the air turbine and thus it is highly efficient without the need for advanced mechanical or turbine systems. FWP does not use any mechanical parts exclude only air-turbine module to generate power. [2]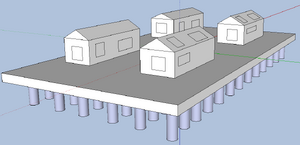 Operation
Edit
FWP design is based on the concept of reciprocating air pump. [3] Instead cylinders FWP platform uses oscillating water columns (OWC) where oscillating water plays the role of piston. Each OWC has nor-return inlet and outlet valves (flaps). Each row of oscillating water columns has inlet and outlet ducts. The air-flow inside the duct moves only in one direction. It allows to minimize the number of air-turbines and make power generating process efficient.
Tests and Trials
Edit
From 2007 to 2009 three small laboratory prototypes were tested at the wave flume of Wikipedia:the University of Queensland. Initial test data proves that technology can generate commercially valuable power. 24 June 2009 Minister for Natural Resources, Mines and Energy Stephen Robertson officially launched 30 m FWP platform for tests in Moreton Bay. [4][5] In 2009 full scale prototype has been tested at the Moreton Bay in Wikipedia:Brisbane. The full scale prototype demonstrated 81% efficiency from wave to pneumatic.[6]
Applications
Edit
FWP platform is a large floating construction having flat surface. Its width depends on power output and location. Its length depends on the location. For the Wikipedia:Roaring Forties 5MWh platform can be 250mX250m and each OWC can be 10m height. FWP platform can be considered as a large floating Wikipedia:real estate with "free" power supply. The list of possible applications
See also
Edit
References
Edit
External links
Edit