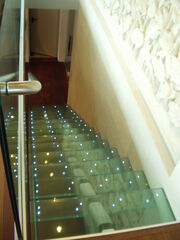 LED-embedded glass is a composite material. Two layers of glass are laminated together, and between them a third layer, surface mounted device (SMD) electronic elements[1] such as light-emitting diodes (LEDs) embedded in a Polyvinyl butyral (PVB) layer. [2]
An oxide film carries current to the SMD/LEDs, with no visible electrical connections. As of 2010, buildings in Dubai, California, and Switzerland had this material installed.[2]
See Also
Edit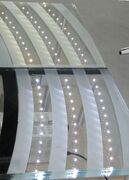 LED embedded film for semitransparent glass application  
Cuttable LED Strips  
Full-colour RGB LED-film laminated to 1x1 m floor glass  
==References==

==For further reading==
*D. Shavit: Transparent Electronic Interlayers, Proceedings of GPD Glass Performance Days, Juni 2009, Seiten 177-180
*D. Shavit: LED- and SMD embedded Polyester Interlayer Film for Lighting, Sensoric and functional Glass, Poster Session at GPD Glass Performance Days, June 2007, S 28








Ad blocker interference detected!
Wikia is a free-to-use site that makes money from advertising. We have a modified experience for viewers using ad blockers

Wikia is not accessible if you've made further modifications. Remove the custom ad blocker rule(s) and the page will load as expected.