This article may contain material from Wikipedia
An article on this subject has been redirected
to another page on WP:
Microbus
Current versions of the GNU FDL article on Wikipedia may contain information useful to the improvement of this article
WP
R
E
D
Synonym for Minibus, although it of course more specifically denotes a smaller bus
See Kombi on Hippiepedia and Volkswagen Transporter and Volkswagen Type 2 on Wikipedia
While of course a VW bus was, can be, and will continue to be called a hippie bus, that article is more specifically about converted school buses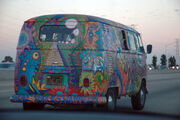 The Microbus was the forerunner of today's minivans, introduced by Volkswagen in the early 1950's using an air-cooled, rear engine layout similar to the VW Beetle ("Bug"). Typically identified by its distinctive split windshield, production of the Microbus ended in model year 1967, replaced by a larger version with a one piece windshield, larger engine, and rounder styling.
Available as a cargo van, camper, or passenger van, the base microbus was the Kombi, identifiable by the absence of the rearmost side windows, the Deluxe, and the most sought-after models, the "21-window" amd "23 window" buses, identifiable by four additional narrow windows in the roof on the right and left sides, in addition to the normal windows in the body.
Ad blocker interference detected!
Wikia is a free-to-use site that makes money from advertising. We have a modified experience for viewers using ad blockers

Wikia is not accessible if you've made further modifications. Remove the custom ad blocker rule(s) and the page will load as expected.