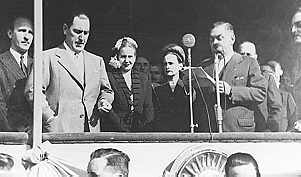 Rodolfo Freude was an important part of helping prosecuted Wikipedia:Nazis flee to Wikipedia:Argentina. Evidence of the role of Argentina regarding Jews and Nazis is contradictory. They both, prevented Jews from escaping Nazi Germany, and aided Nazis to escape after the war, but conversely also aided Jewish immigration to Argentina.
In 1938, on the verge of Wikipedia:World War II, and with Hitler's policies on Wikipedia:Jews in transit, Argentina's government sanctioned an Wikipedia:immigration law restricting access by any individual scorned or forsaken by his country's government. This law was alleged to have implicitly targeted Jews and other minorities fleeing Germany at the time, and was denounced by Uki Goñi, who admits that his own grandfather had participated in upholding it. Between 1930 and 1949, however, Argentina took in more Wikipedia:Jewish refugees per capita than any other nation in the world, with the exception of Wikipedia:Israel. Dr. Leonardo Senkman of the Wikipedia:Hebrew University of Jerusalem says that "the reopening of post-war European emigration to Argentina during the first Peron Presidency in 1946 pushed up the net immigration figure to 463,456 persons between 1947 and 1951..." the highest in thirty years.[1] The legislation, though already in disuse for many years, was repealed on 8 June 2005 as a symbolic act. The Wikipedia:Jewish Virtual Library writes that while Wikipedia:Juan Perón had sympathized with the Axis powers, "Perón also expressed sympathy for Jewish rights and established diplomatic relations with Israel in 1949. Since then, more than 45,000 Jews have emigrated to Israel from Argentina."[2]
Rodolfo Freude
Edit
Rodolfo Freude (1922–2003) was a close advisor of Argentine President Wikipedia:Juan Perón and served as his Director of the Information Division (Wikipedia:División de Informaciones).
Freude, an Argentine citizen of German descent, is suspected of having organized Wikipedia:ODESSA and helping the smuggling of Nazi officers to Argentina.
External links
Edit
Template:Commonscat Wikipedia:Template:Nazis South America
Wikipedia:Category:Argentine Secretaries of Intelligence Wikipedia:Category:Argentine people of German descent Wikipedia:Category:Place of birth missing Wikipedia:Category:1922 births Wikipedia:Category:2003 deaths Wikipedia:Category:Argentine anti-communists

Template:Argentina-politician-stub
Ad blocker interference detected!
Wikia is a free-to-use site that makes money from advertising. We have a modified experience for viewers using ad blockers

Wikia is not accessible if you've made further modifications. Remove the custom ad blocker rule(s) and the page will load as expected.