See also, Acoustic music. Wikipedia:Unplugged is a disambiguation page. It has also been a redirect.
Unplugged refers to rock musicians primarily known for playing electric amplified instruments (usually the electric guitar (WP)) performing live using only acoustic instruments.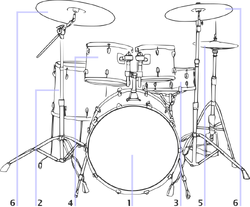 The word became incorporated into the title of a popular MTV (WP) series that began in the 1989/1990 TV season, MTV Unplugged, on which musicians performed acoustic or "unplugged" versions of their familiar repertoire. Many of these performances were subsequently released as albums, often featuring the title Unplugged.
The inspiration for the MTV Unplugged series is widely attributed to the Wikipedia:1979 performances by Wikipedia:Pete Townshend
The performances at Wikipedia:The Secret Policeman's Ball - a series of benefit shows in London for Wikipedia:human rights organization Wikipedia:Amnesty International at which the usually electric guitar-wielding Townshend was persuaded by benefit producer Wikipedia:Martin Lewis to perform his hits Wikipedia:Pinball Wizard and Wikipedia:Won't Get Fooled Again on acoustic guitar. The performances were widely seen and heard on the live album and movie of the benefit and inspired other performers to emulate Townshend's lead.
Ad blocker interference detected!
Wikia is a free-to-use site that makes money from advertising. We have a modified experience for viewers using ad blockers

Wikia is not accessible if you've made further modifications. Remove the custom ad blocker rule(s) and the page will load as expected.