This article may contain material from Wikipedia
An article on this subject has been redirected
to another page on WP:
Viet Nam War
Current versions of the GNU FDL article on Wikipedia may contain information useful to the improvement of this article
WP
R
E
D
Vietnamization, 1969–72
Edit
Nixon Doctrine / Vietnamization
Edit
Severe communist losses during the Tet Offensive allowed U.S. President Richard Nixon to begin troop withdrawals. His plan, called the Nixon Doctrine, was to build up the ARVN, so that they could take over the defense of South Vietnam. The policy became known as "Vietnamization". Vietnamization had much in common with the policies of the Kennedy administration. One important difference, however, remained. While Kennedy insisted that the South Vietnamese fight the war themselves, he attempted to limit the scope of the conflict.
Nixon said in an announcement, "I am tonight announcing plans for the withdrawal of an additional 150,000 American troops to be completed during the spring of next year. This will bring a total reduction of 265,500 men in our armed forces in Vietnam below the level that existed when we took office 15 months ago."[1]
On 10 October 1969, Nixon ordered a squadron of 18 B-52s loaded with nuclear weapons to race to the border of Soviet airspace to convince the Soviet Union, in accord with the madman theory, that he was capable of anything to end the Vietnam War.
Nixon also pursued negotiations. Theater commander Creighton Abrams shifted to smaller operations, aimed at communist logistics, with better use of firepower and more cooperation with the ARVN. Nixon also began to pursue détente with the Soviet Union and rapprochement with China. This policy helped to decrease global tensions. Détente led to nuclear arms reduction on the part of both superpowers. But Nixon was disappointed that China and the Soviet Union continued to supply the North Vietnamese with aid. In September 1969, Ho Chi Minh died at age seventy-nine.[2]
The anti-war movement was gaining strength in the United States. Nixon appealed to the "silent majority" of Americans who he said supported the war without showing it in public. But revelations of the My Lai Massacre, in which a U.S. Army platoon raped and killed civilians, and the 1969 "Green Beret Affair" where eight Special Forces soldiers, including the 5th Special Forces Group Commander were arrested for the murder[3] of a suspected double agent[4] provoked national and international outrage.
Beginning in 1970, American troops were being taken away from border areas where most of the fighting took place, and instead put along the coast and interior, which is one reason why casualties in 1970 were less than half of 1969's totals.[1]
Cambodia and Laos
Edit
Prince Norodom Sihanouk had proclaimed Cambodia neutral since 1955,[5] but the communists used Cambodian soil as a base and Sihanouk tolerated their presence, because he wished to avoid being drawn into a wider regional conflict. Under pressure from Washington, however, he changed this policy in 1969. The Vietnamese communists were no longer welcome. President Nixon took the opportunity to launch a massive bombing campaign, called Operation Menu, against communist sanctuaries along the Cambodia/Vietnam border. Only five high-ranking Congressional officials were informed of the operation.[6]
In 1970, Prince Sihanouk was deposed by his pro-American prime minister Lon Nol. North Vietnam invaded Cambodia in 1970 at the request of Khmer Rouge deputy leader Nuon Chea.[7] U.S. and ARVN forces launched an incursion into Cambodia to attack NVA and Viet Cong bases and end the communist encirclement of Phnom Penh.
This incursion sparked nationwide U.S. protests as Nixon had promised to deescalate the American involvement. Four students were killed by National Guardsmen at Kent State University during a protest in Ohio, which provoked further public outrage in the United States. The reaction to the incident by the Nixon administration was seen as callous and indifferent, providing additional impetus for the anti-war movement.[8] The U.S. Air Force continued to heavily bomb Cambodia in support of the Cambodian government as part of Operation Freedom Deal.
In 1971 the Pentagon Papers were leaked to The New York Times. The top-secret history of U.S. involvement in Vietnam, commissioned by the Department of Defense, detailed a long series of public deceptions on the part of the U.S. government. The Supreme Court ruled that its publication was legal.[9]
The ARVN launched Operation Lam Son 719 in February 1971, aimed at cutting the Ho Chi Minh trail in Laos.[10] The ostensibly neutral Laos had long been the scene of a civil war, pitting the Laotian government backed by the US against the Pathet Lao and its North Vietnamese allies. After meeting resistance, ARVN forces retreated in a confused rout. They fled along roads littered with their own dead. When they exhausted fuel supplies, soldiers abandoned their vehicles and attempted to barge their way on to American helicopters sent to evacuate the wounded. Many ARVN soldiers clung to helicopter skids in a desperate attempt to save themselves. U.S. aircraft had to destroy abandoned equipment, including tanks, to prevent them from falling into enemy hands. Half of the ARVN troops involved in the operation were either captured or killed. The operation was a fiasco and represented a clear failure of Vietnamization. As Karnow noted "the blunders were monumental... The (South Vietnamese) government's top officers had been tutored by the Americans for ten or fifteen years, many at training schools in the United States, yet they had learned little."[11]
In 1971 Australia and New Zealand withdrew their soldiers. The U.S. troop count was further reduced to 196,700, with a deadline to remove another 45,000 troops by February 1972. As peace protests spread across the United States, disillusionment and ill-discipline grew in the ranks[12] including increased drug use, "fragging" and desertions.[13]
Vietnamization was again tested by the Easter Offensive of 1972, a massive conventional NVA invasion of South Vietnam. The NVA and Viet Cong quickly overran the northern provinces and in coordination with other forces attacked from Cambodia, threatening to cut the country in half. U.S. troop withdrawals continued. But American airpower came to the rescue with Operation Linebacker, and the offensive was halted. However, it became clear that without American airpower South Vietnam could not survive. The last remaining American ground troops were withdrawn in August.
1972 election and Paris Peace Accords
Edit
The war was the central issue of the 1972 U.S. presidential election. Nixon's opponent, George McGovern, campaigned on a platform of withdrawal from Vietnam. Nixon's National Security Advisor, Henry Kissinger, continued secret negotiations with North Vietnam's Le Duc Tho. In October 1972, they reached an agreement.
However, South Vietnamese president Thieu demanded massive changes to the peace accord. When North Vietnam went public with the agreement's details, the Nixon administration claimed that the North was attempting to embarrass the president. The negotiations became deadlocked. Hanoi demanded new changes.
To show his support for South Vietnam and force Hanoi back to the negotiating table, Nixon ordered Operation Linebacker II, a massive bombing of Hanoi and Haiphong 18–29 December 1972. The offensive destroyed much of the remaining economic and industrial capacity of North Vietnam. Simultaneously Nixon pressured Thieu to accept the terms of the agreement, threatening to conclude a bilateral peace deal and cut off American aid.
On 15 January 1973, Nixon announced the suspension of offensive action against North Vietnam. The Paris Peace Accords on "Ending the War and Restoring Peace in Vietnam" were signed on 27 January 1973, officially ending direct U.S. involvement in the Vietnam War. A cease-fire was declared across North and South Vietnam. U.S. prisoners of war were released. The agreement guaranteed the territorial integrity of Vietnam and, like the Geneva Conference of 1954, called for national elections in the North and South. The Paris Peace Accords stipulated a sixty-day period for the total withdrawal of U.S. forces. "This article", noted Peter Church, "proved... to be the only one of the Paris Agreements which was fully carried out."[14]
Opposition to U.S. involvement in the Vietnam War: 1962–1973
Edit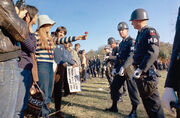 During the course of the Vietnam War a large segment of the American population came to be opposed to U.S. involvement in South Vietnam. Public opinion steadily turned against the war following 1967 and by 1970 only a third of Americans believed that the U.S. had not made a mistake by sending troops to fight in Vietnam.[15]
Nearly a third of the American population were strongly against the war. It is possible to specify certain groups who led the anti-war movement and the reasons why. Many young people protested because they were the ones being drafted while others were against the war because the anti-war movement grew increasingly popular among the counterculture and drug culture in American society and its music.[16]
Some advocates within the peace movement advocated a unilateral withdrawal of U.S. forces from Vietnam. One reason given for the withdrawal is that it would contribute to a lessening of tensions in the region and thus less human bloodshed. Early opposition to U.S. involvement in Vietnam drew its inspiration from the Geneva Conference of 1954. American support of Diệm in refusing elections was seen as thwarting the very democracy that America claimed to be supporting. John F. Kennedy, while Senator, opposed involvement in Vietnam.[17]
Opposition to the Vietnam War tended to unite groups opposed to U.S. anti-communism and imperialism[18] and, for those involved with the New Left such as the Catholic Worker Movement. Others, such as Stephen Spiro opposed the war based on the theory of Just War. Some wanted to show solidarity with the people of Vietnam, such as Norman Morrison emulating the actions of Thích Quảng Đức. In a key televised debate from 15 May 1965, Eric Severeid reporting for CBS conducted a debate between McGeorge Bundy and Hans Morgenthau dealing with an acute summary of the main war concerns of the U.S. as seen at that time stating them as: "(1) What are the justifications for the American presence in Vietnam -- why are we there? (2) What is the fundamental nature of this war? Is it aggression from North Vietnam or is it basically, a civil war between the peoples of South Vietnam? (3) What are the implications of this Vietnam struggle in terms of Communist China's power and aims and future actions? And (4) What are the alternatives to our present policy in Vietnam?"[19][20]
High-profile opposition to the Vietnam War turned to street protests in an effort to turn U.S. political opinion. On 15 October 1969, the Vietnam Moratorium attracted millions of Americans.[21] Riots broke out at the 1968 Democratic National Convention during protests against the war.[22] After explosive news reports of American military abuses, such as the 1968 My Lai Massacre, brought new attention and support to the anti-war movement, some veterans joined Vietnam Veterans Against the War. The fatal shooting of four students at Kent State University in 1970 led to nation-wide university protests.[23] Anti-war protests ended with the final withdrawal of troops after the Paris Peace Accords were signed in 1973. South Vietnam was left to defend itself alone when the fighting resumed. Many South Vietnamese subsequently fled to the United States.[24]
Exit of the Americans: 1973–75
Edit
The United States began drastically reducing their troop support in South Vietnam during the final years of Vietnamization. Many U.S. troops were removed from the region, and on 5 March 1971, the United States returned the 5th Special Forces Group, which was the first American unit deployed to South Vietnam, to its former base in Fort Bragg, North Carolina.[25] [A 1]
Under the Paris Peace Accords, between North Vietnamese Foreign Minister Lê Đức Thọ and U.S. Secretary of State Henry Kissinger, and reluctantly signed by South Vietnamese president Thiệu, U.S. military forces withdrew from South Vietnam and prisoners were exchanged. North Vietnam was allowed to continue supplying communist troops in the South, but only to the extent of replacing expended materiel. Later that year the Nobel Peace Prize was awarded to Kissinger and Thọ, but the Vietnamese negotiator declined it saying that a true peace did not yet exist.
The communist leaders had expected that the ceasefire terms would favor their side. But Saigon, bolstered by a surge of U.S. aid received just before the ceasefire went into effect, began to roll back the Viet Cong. The communists responded with a new strategy hammered out in a series of meetings in Hanoi in March 1973, according to the memoirs of Trần Văn Trà.[28]
As the Viet Cong's top commander, Tra participated in several of these meetings. With U.S. bombings suspended, work on the Ho Chi Minh trail and other logistical structures could proceed unimpeded. Logistics would be upgraded until the North was in a position to launch a massive invasion of the South, projected for the 1975–76 dry season. Tra calculated that this date would be Hanoi's last opportunity to strike before Saigon's army could be fully trained.[28]
In the November 1972 Election, Democratic nominee George McGovern lost 49 of 50 states to the incumbent President Richard Nixon. On 15 March 1973, President Nixon implied that the United States would intervene militarily if the communist side violated the ceasefire. Public and congressional reaction to Nixon's trial balloon was unfavorable and in April Nixon appointed Graham Martin as U.S. ambassador to Vietnam. Martin was a second stringer compared to previous U.S. ambassadors and his appointment was an early signal that Washington had given up on Vietnam.Template:Citation needed During his confirmation hearings in June 1973, Secretary of Defense James R. Schlesinger stated that he would recommend resumption of U.S. bombing in North Vietnam if North Vietnam launched a major offensive against South Vietnam. On 4 June 1973, the U.S. Senate passed the Case–Church Amendment to prohibit such intervention.[29]
The oil price shock of October 1973 following the Yom Kippur War in Egypt caused significant damage to the South Vietnamese economy. The Viet Cong resumed offensive operations when the dry season began and by January 1974 it had recaptured the territory it lost during the previous dry season. After two clashes that left 55 South Vietnamese soldiers dead, President Thieu announced on 4 January that the war had restarted and that the Paris Peace Accord was no longer in effect. There had been over 25,000 South Vietnamese casualties during the ceasefire period.[30]
Gerald Ford took over as U.S. president on 9 August 1974 after president Nixon resigned due to the Watergate scandal. At this time, Congress cut financial aid to South Vietnam from $1 billion a year to $700 million. The U.S. midterm elections in 1974 brought in a new Congress dominated by Democrats who were even more determined to confront the president on the war. Congress immediately voted in restrictions on funding and military activities to be phased in through 1975 and to culminate in a total cutoff of funding in 1976.
The success of the 1973–74 dry season offensive inspired Trà to return to Hanoi in October 1974 and plead for a larger offensive in the next dry season. This time, Trà could travel on a drivable highway with regular fueling stops, a vast change from the days when the Ho Chi Minh trail was a dangerous mountain trek.[31] Giáp, the North Vietnamese defense minister, was reluctant to approve Trà's plan. A larger offensive might provoke a U.S. reaction and interfere with the big push planned for 1976. Trà appealed over Giáp's head to first secretary Le Duan, who approved of the operation.
Trà's plan called for a limited offensive from Cambodia into Phước Long Province. The strike was designed to solve local logistical problems, gauge the reaction of South Vietnamese forces, and determine whether U.S. would return to the fray.
On 13 December 1974, North Vietnamese forces attacked Route 14 in Phước Long Province. Phuoc Binh, the provincial capital, fell on 6 January 1975. Ford desperately asked Congress for funds to assist and re-supply the South before it was overrun. Congress refused. The fall of Phuoc Binh and the lack of an American response left the South Vietnamese elite demoralized.
The speed of this success led the Politburo to reassess its strategy. It was decided that operations in the Central Highlands would be turned over to General Văn Tiến Dũng and that Pleiku should be seized, if possible. Before he left for the South, Dũng was addressed by Lê Duẩn: "Never have we had military and political conditions so perfect or a strategic advantage as great as we have now."[32]
At the start of 1975, the South Vietnamese had three times as much artillery and twice the number of tanks and armored cars as the opposition. They also had 1,400 aircraft and a two-to-one numerical superiority in combat troops over their Communist enemies.[33] However, the rising oil prices meant that much of this could not be used. They faced a well-organized, highly determined and well-funded North Vietnam. Much of the North's material and financial support came from the communist bloc. Within South Vietnam, there was increasing chaos. Their abandonment by the American military had compromised an economy dependent on U.S. financial support and the presence of a large number of U.S. troops. South Vietnam suffered from the global recession that followed the Arab oil embargo.
Campaign 275
Edit
Template:Details Template:Details Template:Details
Template:Refimprove section On 10 March 1975, General Dung launched Campaign 275, a limited offensive into the Central Highlands, supported by tanks and heavy artillery. The target was Buôn Ma Thuột, in Đắk Lắk Province. If the town could be taken, the provincial capital of Pleiku and the road to the coast would be exposed for a planned campaign in 1976. The ARVN proved incapable of resisting the onslaught, and its forces collapsed on 11 March. Once again, Hanoi was surprised by the speed of their success. Dung now urged the Politburo to allow him to seize Pleiku immediately and then turn his attention to Kon Tum. He argued that with two months of good weather remaining until the onset of the monsoon, it would be irresponsible to not take advantage of the situation.
President Nguyễn Văn Thiệu, a former general, was fearful that his forces would be cut off in the north by the attacking communists; Thieu ordered a retreat. The president declared this to be a "lighten the top and keep the bottom" strategy. But in what appeared to be a repeat of Operation Lam Son 719, the withdrawal soon turned into a bloody rout. While the bulk of ARVN forces attempted to flee, isolated units fought desperately. ARVN General Phu abandoned Pleiku and Kon Tum and retreated toward the coast, in what became known as the "column of tears".
As the ARVN tried to disengage from the enemy, refugees mixed in with the line of retreat. The poor condition of roads and bridges, damaged by years of conflict and neglect, slowed Phu's column. As the North Vietnamese forces approached, panic set in. Often abandoned by the officers, the soldiers and civilians were shelled incessantly. The retreat degenerated into a desperate scramble for the coast. By 1 April the "column of tears" was all but annihilated.
On 20 March, Thieu reversed himself and ordered Huế, Vietnam's third-largest city, be held at all costs, and then changed his policy several times. Thieu's contradictory orders confused and demoralized his officer corps. As the North Vietnamese launched their attack, panic set in, and ARVN resistance withered. On 22 March, the NVA opened the siege of Huế. Civilians flooded the airport and the docks hoping for any mode of escape. Some even swam out to sea to reach boats and barges anchored offshore. In the confusion, routed ARVN soldiers fired on civilians to make way for their retreat.
On 25 March, after a three-day battle, Huế fell. As resistance in Huế collapsed, North Vietnamese rockets rained down on Da Nang and its airport. By 28 March 35,000 VPA troops were poised to attack the suburbs. By 30 March 100,000 leaderless ARVN troops surrendered as the NVA marched victoriously through Da Nang. With the fall of the city, the defense of the Central Highlands and Northern provinces came to an end.
Final North Vietnamese offensive
Edit
Template:Details With the northern half of the country under their control, the Politburo ordered General Dung to launch the final offensive against Saigon. The operational plan for the Ho Chi Minh Campaign called for the capture of Saigon before 1 May. Hanoi wished to avoid the coming monsoon and prevent any redeployment of ARVN forces defending the capital. Northern forces, their morale boosted by their recent victories, rolled on, taking Nha Trang, Cam Ranh, and Da Lat.
On 7 April, three North Vietnamese divisions attacked Xuân Lộc, 40 miles (64 km) east of Saigon. The North Vietnamese met fierce resistance at Xuân Lộc from the ARVN 18th Division, who were outnumbered six to one. For two bloody weeks, severe fighting raged as the ARVN defenders made a last stand to try to block the North Vietnamese advance. By 21 April, however, the exhausted garrison were ordered to withdraw towards Saigon.
An embittered and tearful president Thieu resigned on the same day, declaring that the United States had betrayed South Vietnam. In a scathing attack, he suggested U.S. Secretary of State Henry Kissinger had tricked him into signing the Paris peace agreement two years ago, promising military aid that failed to materialize. Having transferred power to Trần Văn Hương, he left for Taiwan on 25 April. At the same time, North Vietnamese tanks had reached Biên Hòa and turned toward Saigon, brushing aside isolated ARVN units along the way.
By the end of April, the ARVN had collapsed on all fronts except in the Mekong Delta. Thousand of refugees streamed southward, ahead of the main communist onslaught. On 27 April 100,000 North Vietnamese troops encircled Saigon. The city was defended by about 30,000 ARVN troops. To hasten a collapse and foment panic, the NVA shelled the airport and forced its closure. With the air exit closed, large numbers of civilians found that they had no way out.
Fall of Saigon
Edit
Chaos, unrest, and panic broke out as hysterical South Vietnamese officials and civilians scrambled to leave Saigon. Martial law was declared. American helicopters began evacuating South Vietnamese, U.S., and foreign nationals from various parts of the city and from the U.S. embassy compound. Operation Frequent Wind had been delayed until the last possible moment, because of U.S. Ambassador Graham Martin's belief that Saigon could be held and that a political settlement could be reached.
Schlesinger announced early in the morning of 29 April 1975 the evacuation from Saigon by helicopter of the last U.S. diplomatic, military, and civilian personnel. Frequent Wind was arguably the largest helicopter evacuation in history. It began on 29 April, in an atmosphere of desperation, as hysterical crowds of Vietnamese vied for limited space. Martin pleaded with Washington to dispatch $700 million in emergency aid to bolster the regime and help it mobilize fresh military reserves. But American public opinion had soured on this conflict.
In the United States, South Vietnam was perceived as doomed. President Gerald Ford had given a televised speech on 23 April, declaring an end to the Vietnam War and all U.S. aid. Frequent Wind continued around the clock, as North Vietnamese tanks breached defenses on the outskirts of Saigon. In the early morning hours of 30 April, the last U.S. Marines evacuated the embassy by helicopter, as civilians swamped the perimeter and poured into the grounds. Many of them had been employed by the Americans and were left to their fate.
On 30 April 1975, NVA troops entered the city of Saigon and quickly overcame all resistance, capturing key buildings and installations. A tank from the 324th Division crashed through the gates of the Independence Palace at 11:30 am local time and the Viet Cong flag was raised above it. President Dương Văn Minh, who had succeeded Huong two days earlier, surrendered.[34]
Communist forces were principally armed with Chinese[35] and Soviet weaponry[36] though some Viet Cong guerrilla units were equipped with Western infantry weapons either captured from French stocks during the first Indochina war or from ARVN units or requisitioned through illicit purchase.[37] The ubiquitous Soviet AK-47 was often regarded as the best assault rifle of the war, due to its ability to continue to function even in adverse, muddy conditions. It was not uncommon to see U.S. special forces fighting with captured AK-47s. Template:Citation needed Other weapons used by the Viet Cong included the World War II-era PPSh-41 submachine gun (both Soviet and Chinese versions), the Škorpion vz. 61 submachine gun, the DShK heavy machine gun and the Stechkin APS machine pistol.
While the Viet Cong had both amphibious tanks (such as the PT-76) and light tanks (such as the Type 62), they also used bicycles to transport munitions.
The American M16, which replaced the M14, was considered more accurate and was lighter than the AK-47 but was prone to jamming. Oftentimes the gun suffered from a jamming flaw known as "failure to extract", which meant that a spent cartridge case remains lodged in the action after a round is fired.[38] According to a congressional report, the jamming was caused primarily by a change in gunpowder which was done without adequate testing and reflected a decision for which the safety of soldiers was a secondary consideration.[39]
The M60 machine gun GPMG (General Purpose Machine Gun) was the main machine gun of the US army at the time and many of them were put on helicopters, to provide suppressive fire when landing in hostile regions. The MAC-10 machine pistol was supplied to many special forces troops in the midpoint of the war. It also armed many CIA agents in the field.
Two of the aircraft which were prominent in the war are the AC-130 "Spectre" Gunship and the UH-1 "Huey" gunship. The AC-130 is a heavily armed ground-attack aircraft variant of the C-130 Hercules transport plane; it was used to provide close air support, air interdiction and force protection. The AC-130H "Spectre" was armed with two 20 mm M61 Vulcan cannons, one Bofors 40mm autocannon, and one 105 mm M102 howitzer. The Huey is a military helicopter powered by a single, turboshaft engine, with a two-bladed main rotor and tail rotor. Approximately 7,000 UH-1 aircraft saw service in Vietnam.
The Claymore M18A1, an anti-personnel mine, was widely used during the war. Unlike a conventional land mine, the Claymore is command-detonated and directional, meaning it is fired by remote-control and shoots a pattern of metal balls into the kill zone like a shotgun.
The aircraft ordnance used during the war included precision-guided munition, cluster bombs, and napalm, a thickening/gelling agent generally mixed with petroleum or a similar fuel for use in an incendiary device, initially against buildings and later primarily as an anti-personnel weapon that sticks to skin and can burn down to the bone.
Aftermath
Edit
Events in Southeast Asia
Edit
On 2 July 1976, North and South Vietnam were merged to form the Socialist Republic of Vietnam.[40] Following the communist takeover, 1–2.5[41] million South Vietnamese were sent to reeducation camps, with an estimated 165,000 prisoners dying.[42] Between 100,000[41][43][44] and 200,000[45] South Vietnamese were executed.[46] R. J. Rummel, an analyst of political killings, estimated that about 50,000 South Vietnamese deported to "New Economic Zones" died performing hard labor,[47] out of the 1 million that were sent.[41] 200,000 to 400,000 Vietnamese boat people died at sea, according to the United Nations High Commissioner for Refugees.[48]
Phnom Penh, the capital of Cambodia, fell to the communist Khmer Rouge on 17 April 1975. Under the leadership of Pol Pot, the Khmer Rouge would eventually kill 1–3 million Cambodians in the Killing Fields, out of a population of around 8 million.[49][50][51][52] At least 1,386,734 victims of execution have been counted in mass graves, while demographic analysis suggests that the policies of the regime caused between 1.7 and 2.5 million excess deaths altogether (including disease and starvation).[52] After repeated border clashes in 1978, Vietnam invaded Democratic Kampuchea (Cambodia) and ousted the Khmer Rouge in the Cambodian–Vietnamese War. The Vietnamese installed a new government led by Khmer Rouge defectors, which killed tens of thousands and enslaved hundreds of thousands.[53]
In response, China invaded Vietnam in 1979. The two countries fought a brief border war, known as the Sino-Vietnamese War. From 1978 to 1979, some 450,000 ethnic Chinese left Vietnam by boat as refugees or were expelled across the land border with China.[54]
The communist Pathet Lao overthrew the royalist government of Laos in December 1975, establishing the Lao People's Democratic Republic.[55] The conflict between Hmong rebels and the Pathet Lao continued in isolated pockets. The government of Laos has been accused of committing genocide against the Hmong in collaboration with the People's Army of Vietnam,[56][57] with up to 100,000 killed out of a population of 400,000.[58][59] From 1975 to 1996, the United States resettled some 250,000 Lao refugees from Thailand, including 130,000 Hmong.[60]
More than 3 million people fled from Vietnam, Laos, and Cambodia, many as "boat people" in the Indochina refugee crisis. Most Asian countries were unwilling to accept refugees.[61] Since 1975, an estimated 1.4 million refugees from Vietnam and other Southeast Asian countries have been resettled to the United States,[62] while Canada, Australia, and France resettled over 500,000.[63] In 1988, Vietnam suffered a famine that afflicted millions.[64] Vietnam played a role in Asia similar to Cuba's in Latin America: it supported local revolutionary groups and was a headquarters for Soviet-style communism.[65]
External links
Edit
↑ 1.0 1.1 "Vietnamization: 1970 Year in Review". Upi.com. 27 October 2011. http://www.upi.com/Audio/Year_in_Review/Events-of-1970/Apollo-13/12303235577467-2/#title

. Retrieved 31 October 2011

.

 

dead link
↑

Jeff Stein, Murder in Wartime: The Untold Spy Story that Changed the Course of the Vietnam War. (New York: St. Martin's Press, 1992) 60–62.

↑ Seals, Bob (2007) The "Green Beret Affair": A Brief Introduction.
↑ Prince Norodom Sihanouk. "Cambodia Neutral: The Dictates of Necessity." Foreign Affairs 1958, pp. 582–583.
↑

They were: Senators John C. Stennis (MS) and Richard B. Russell, Jr. (GA) and Representatives Lucius Mendel Rivers (SC), Gerald R. Ford (MI), and Leslie C. Arends (IL). Arends and Ford were leaders of the Republican minority and the other three were Democrats on either the Armed Services or Appropriations committees.

↑ Dmitry Mosyakov, "The Khmer Rouge and the Vietnamese Communists: A History of Their Relations as Told in the Soviet Archives", in Susan E. Cook, ed., Genocide in Cambodia and Rwanda (Yale Genocide Studies Program Monograph Series No. 1, 2004), p. 54 ff. Available online at: www.yale.edu/gsp/publications/Mosyakov.doc "In April–May 1970, many North Vietnamese forces entered Cambodia in response to the call for help addressed to Vietnam not by Pol Pot, but by his deputy Nuon Chea. Nguyen Co Thach recalls: "Nuon Chea has asked for help and we have liberated five provinces of Cambodia in ten days."
↑ Joe Angio. Nixon a Presidency Revealed. Television Documentary, The History Channel, 15 February 2007.
↑ Cite error: Invalid <ref> tag; no text was provided for refs named laos35k
↑ Karnow 1997, pp. 644–5.
↑ Ronald H. Spector, Encyclopaedia Britannica Online, 'Vietnam War (1954-75) http://web.archive.org/web/20140520162812/http://www.britannica.com/EBchecked/topic/628478/Vietnam-War/234638/The-United-States-negotiates-a-withdrawal retrieved 20.05.14
↑ Peter Church, ed. A Short History of South-East Asia. Singapore. John Wiley & Sons, 2006, pp. 193–194.
↑

Lunch, W. & Sperlich, P. (1979). The Western Political Quarterly. 32(1). pp. 21–44

↑ "Robert C. Ankony, "Perspectives," ''Vietnam'' magazine, Aug. 2002, 58–61". Robertankony.com. 2013-10-27. http://www.robertankony.com/publications/perspectives/

. Retrieved 2014-02-24

.

 

↑ Cite error: Invalid <ref> tag; no text was provided for refs named USvietAnalysis
↑ Louis B. Zimmer, The Vietnam War Debate; pp. 54-55; Hardcover: 430 pages; Publisher: Lexington Books (October 13, 2011); ISBN 0739137697.
↑ Louis B. Zimmer, The Vietnam War Debate; pp. 53-54; Hardcover: 430 pages; Publisher: Lexington Books (October 13, 2011); ISBN 0739137697.
↑ Videorecording of entire debate proceedings available at the Museum of Radio and Television in New York City.
↑ 1969: Millions march in US Vietnam Moratorium. BBC On This Day.
↑

Jennings & Brewster 1998: 413.

↑ "History Lesson 8: Refugees From Vietnam and Cambodia", Immigration in US history, Constitutional Rights Foundation, http://crfimmigrationed.org/index.php/lessons-for-teachers/147-hl8

 

↑ Stanton 2003, p. 240
↑ Willbanks 2009, p. 110
↑ "Facts about the Vietnam Veterans memorial collection". NPS.gov. 2010. http://www.nps.gov/mrc/reader/vvmcr.htm

. Retrieved 26 April 2010

.

 

↑ 28.0 28.1 Karnow 1997, pp. 672–4.
↑ Karnow 1997, pp. 670–2.
↑ "This Day in History 1974: Thieu announces war has resumed". History.com. http://www.history.com/this-day-in-history/thieu-announces-war-has-resumed

. Retrieved 17 October 2009

.

 

↑ Karnow 1997, p. 676.
↑ Clark Dougan, David Fulgham et al., The Fall of the South. Boston: Boston Publishing Company, 1985, p. 22.
↑ The End of the Vietnam War, 30 Years Ago by Gabriel Kolko, CounterPunch 30 April / 1 May 2005.
↑ Tucker 1999, p. 29
↑ Chinese Support for North Vietnam during the Vietnam War: The Decisive Edge, Bob Seals, Military History Online, 23 September 2008
↑ Albert Parray, Military Review, Soviet aid to Vietnam, June 1967
↑ Gordon L. Rottman, Viet Cong Fighter, Osprey Publishing (2007) p. 20-30 ISBN 978-1-84603-126-7
↑ 41.0 41.1 41.2 Desbarats, Jacqueline. "Repression in the Socialist Republic of Vietnam: Executions and Population Relocation", from The Vietnam Debate (1990) by John Morton Moore. "We know now from a 1985 statement by Nguyen Co Tach that two and a half million, rather than one million, people went through reeducation....in fact, possibly more than 100,000 Vietnamese people were victims of extrajudicial executions in the last ten years....it is likely that, overall, at least one million Vietnamese were the victims of forced population transfers."
↑ Anh Do and Hieu Tran Phan, Camp Z30-D: The Survivors, Orange County Register, 29 April 2001.
↑ Morris, Stephen J. Glastnost and the Gulag: The Numbers Game, Vietnam Commentary, May–June 1988.
↑ Human Events, 27 August 1977.
↑

Al Santoli, ed., To Bear Any Burden (Indiana University Press, 1999), pp272, 292–3.

↑ See also Nghia M. Vo, The Bamboo Gulag: Political Imprisonment in Communist Vietnam (McFarland, 2004)
↑ Rummel, Rudolph, Statistics of Vietnamese Democide, in his Statistics of Democide, 1997.
↑ Associated Press, 23 June 1979, San Diego Union, 20 July 1986. See generally Nghia M. Vo, The Vietnamese Boat People (2006), 1954 and 1975–1992, McFarland.
↑ Cite error: Invalid <ref> tag; no text was provided for refs named Sliwinski_1995
↑ Cite error: Invalid <ref> tag; no text was provided for refs named Banister.2C_Judith_1993
↑

Heuveline, Patrick (2001). "The Demographic Analysis of Mortality in Cambodia." In Forced Migration and Mortality, eds. Holly E. Reed and Charles B. Keely. Washington, D.C.: National Academy Press. Heuveline suggests that a range of 1.17–3.42 million people were killed.

↑ 52.0 52.1 Sharp, Bruce (1 April 2005). "Counting Hell: The Death Toll of the Khmer Rouge Regime in Cambodia". http://www.mekong.net/cambodia/deaths.htm

. Retrieved 16 February 2013

.

 

↑ Etcheson 2005, pp. 24, 27.
↑ Vietnam (03/09). U.S. Department of State.
↑ "CIA – The World Factbook – Laos". https://www.cia.gov/library/publications/the-world-factbook/geos/la.html#history

. Retrieved 11 June 2008

.

 

↑ Unrepresented Nations and Peoples Organization. "WGIP: Side event on the Hmong Lao, at the United Nations". http://www.unpo.org/article/5095

. Retrieved 20 April 2011

.

 

↑ Jane Hamilton-Merritt, Tragic Mountains: The Hmong, the Americans, and the Secret Wars for Laos, 1942–1992 (Indiana University Press, 1999), pp337-460
↑ Forced Back and Forgotten (Lawyers' Committee for Human Rights, 1989), p. 8.
↑ Statistics of Democide Rudolph Rummel
↑ Laos (04/09). U.S. Department of State.
↑ "Migration in the Asia-Pacific RegionTemplate:Dead link". Stephen Castles, University of Oxford. Mark J. Miller, University of Delaware. July 2009.
↑ Refugee Resettlement in Metropolitan America. Migration Information Source.
↑ Crossette, Barbara, Hanoi, Citing Famine Fears, Seeks Emergency Aid, The New York Times, 15 May 1988.
↑ Van, Canh Nguyen; Cooper, Earle (1983). Vietnam under Communism, 1975–1982, p. 229. Hoover Press. ISBN 9780817978518.
Cite error: <ref> tags exist for a group named "A", but no corresponding <references group="A"/> tag was found.
Ad blocker interference detected!
Wikia is a free-to-use site that makes money from advertising. We have a modified experience for viewers using ad blockers

Wikia is not accessible if you've made further modifications. Remove the custom ad blocker rule(s) and the page will load as expected.