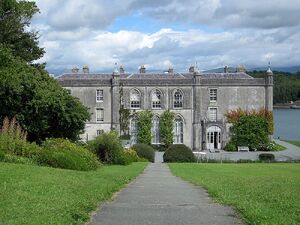 This article was made a redirect with multiple deficiencies (target Geothermal heat pump and title plural instead of singular) on Wikipedia:Water-source heat pumps. The content was erased or nonexistent
Heat pumps, roughly, move heat from a "source" to a "sink" location. They can be used to cool or heat one location (or hypothetically, heat one and cool one location-a refrigerator helps keep homes warm in the winter, and is similarly counterproductive in summer). The word "sink" is more accurately used when cooling or refrigeration is desired, as sink implies waste heat energy. They always work on the same principle as a refrigerator, although heat-exchanging materials other than freon gas may be used. For example, some hypothetical work in elastomers done in 1970.[1]
Open systems
Edit
Flowing water or deep standing water may be used as either source or sink for heat. For example, water may be used as a source to heat homes, or swimming pools may be the destination of the heat. Flowing water usage is known as "Single-pass", and is an open system, and "recirculating" systems are closed (entirely encased) or partially closed (still bodies of water).
Plas Newydd
Edit
The National Trust has invested £600,000 for a marine source heat pump at Plas Newydd mansion in Wales.[2][3][4] At 300 kilowatts, the pump is to be the biggest in Britain.[3] Its oil-fired boiler made the mansion the the most polluting[2] and biggest oil consumer[3] of the National Trust's properties;[2] the renovation is expected to save around £40,000 a year in operating costs.[2] Plas Newydd is one of five pilot properties; if they succeed,[2][3] the National Trust will invest in 43 more renewable energy plans.[2][3] The pilot program includes: biomass (WP) in Croft Castle in Herefordshire, a woodchip boiler in Ickworth in Suffolk, hydroelectric (WP) in Hafod y Porth near Craflwyn in Snowdonia,[5] and hydroelectric in Stickle Ghyll in the Lake District.[2][3]
Closed systems
Edit
Closed systems usually rely on non-ambient sources of heat or cooling. A closed-loop heat transfer medium may be taken to a central cooling tower or chiller (typically in a building or industrial setting), and returned to an area where cooling is desired. An area can be heated with a closed-loop heat transfer medium from central boilers generating heat from combustion or other sources
See also
Edit
External links
Edit
Ad blocker interference detected!
Wikia is a free-to-use site that makes money from advertising. We have a modified experience for viewers using ad blockers

Wikia is not accessible if you've made further modifications. Remove the custom ad blocker rule(s) and the page will load as expected.